Raising even a few chickens is very profitable. Besides the fact that you will always have fresh eggs and meat, they are a very good soil cleaner. There are a few mistakes people make when they start raising chickens.
If you don't make them, your hens will be happy, and you will be satisfied with the amount of eggs they will lay. Many beginners are not sure what requirements a functional chicken coop should meet.
If you want to create the best conditions for chickens, you need to invest effort and time in the project. We are sure that all your efforts will be worth it, because the home of your animals will attract the attention of many.
So you can make an equally beautiful and functional space. The most important thing is to estimate the size of the chicken coop well, and we will help you with that.
Chicken coop design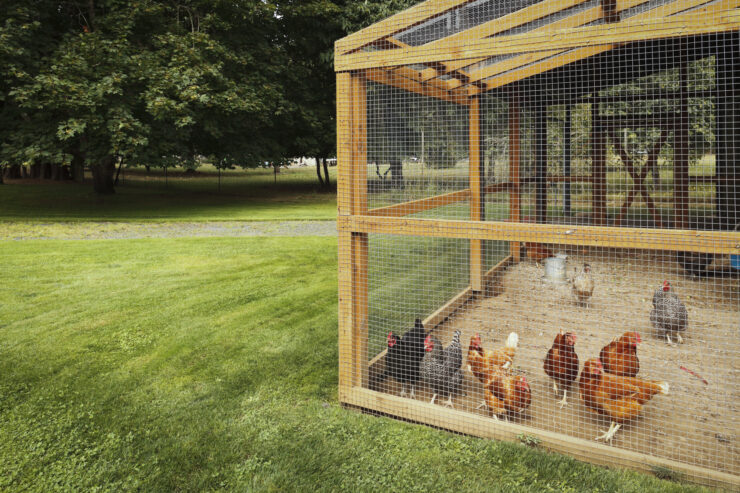 The traditional chicken coop is functional, but its appearance is not so attractive. However, if you look at online platforms like Pinterest or websites like www.aivituvin.com, you can find amazing chicken coop designs.
Look for inspiration if you still have no idea about the look of the space, because with its appearance, these spaces become a decoration in the courtyards. You can surround them with greenery and flowers, and if they are your pets and have names – place the tiles at the entrance to the chicken coop.
We will present you some practical solutions for chickens. For example, enhance the look of this space with swings. This item looks very interesting, especially if you opt for swings in different colors.
However, it is not useless, because chickens will enjoy it. This will give them a lot of fun during the day. You can make the swings yourself, you will need a branch of the appropriate thickness, a drill for two holes and a rope.
You can also make a feeder yourself, which is simple and cheap, and contributes to the fact that food does not spill. You need PVC pipes and a Y connector. Connect them, glue and install if necessary. Pour food into the tube with a funnel and let the chickens discover this way of feeding.
Install a special net, such as a hammock. Thanks to the net, the chicken coop will be much cleaner. Take it off once a month and take the feces to the compost.
Types of chicken coops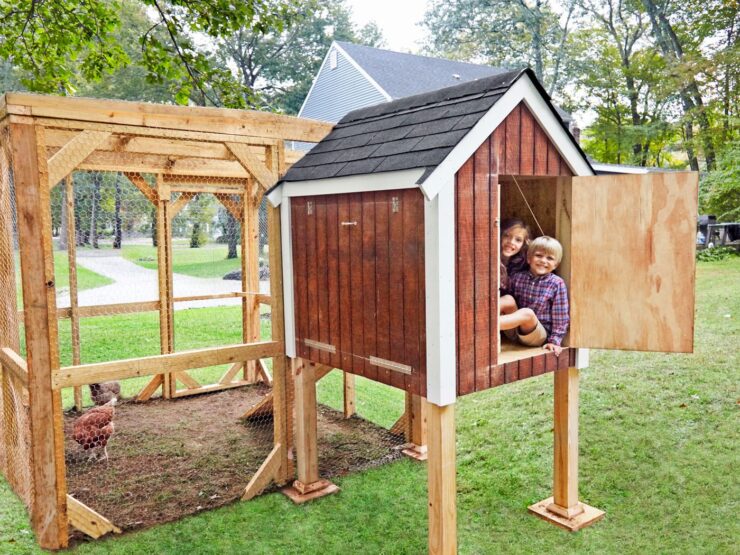 If you need a mounting solution for a smaller space, then consider a few basic types of small chicken coops. For example, opt for a coop with free space. This is actually a great solution for chickens, because they will enjoy freedom and have a hiding place at the same time.
However, this space also has its drawbacks. In such conditions, it is not easy to keep everything under control, because the feces will be scattered everywhere very quickly. The next option is a combined type of chicken coop.
A lot of farmers decide for it, because it is an optimal space. It meets most of the requirements of the chicken coop and you can establish proper control. It is very important to decide on the correct dimensions and to estimate the angles well.
Otherwise, the chickens will not be able to walk everywhere. The closed chicken coop is a small shed for birds.
During the project, you can use old greenhouses that are no longer useful to you. If you opt for this type of space, you will need to maintain it daily. Cells are a great option for a small number of birds. They will stay in smaller hanging cages that you will arrange in several rows.
Of course, you will make a special area for walking. Lastly, portable mini-format chicken coops are an equally popular choice. Mostly compact summer houses are used, which you will easily carry with you.
Thanks to the small wheels, you will quickly move the house from one place to another. However, you are limited by the number of birds.
Paper drawing of a chicken coop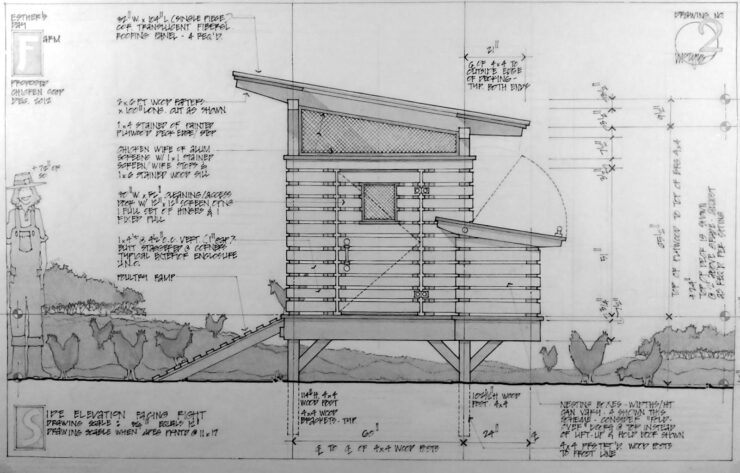 Just like with larger projects, you can't do anything without drawings. So, put all your ideas on paper, but first decide what the chicken coop will be like. This means that you will think about where it will stand, its size, capacity, elements of the chicken coop, materials and its design.
The size will vary depending on the species and the number of animals you want to have (or have). Therefore, it is important to know the different species that exist. In that case, you can opt for a closed physical structure, which means that each hen will have more than enough space to move.
You can also choose a slightly more demanding project, but you will also get a lot more space to move. If you live in an area with low temperatures, you need a sheltered chicken coop. We must not forget the area for the nest, which must also be the right size.
Once you have taken all this into account, you can make a sketch of the project. Our advice is to forget about ready-made schemes. Instead, do the design yourself. Consider the specifics of the location where you are carrying out the work.
Dimensions of the chicken coop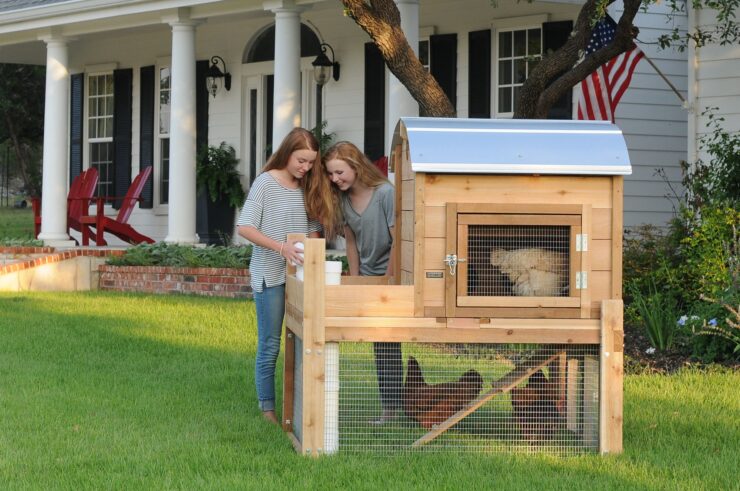 So, the dimensions of the chicken coop depend primarily on the number of birds that will live in it. It also depends on the characteristics of your yard, as well as the climatic conditions. The breed of chicken is equally important, as well as your intentions.
For example, there is no need to make a large chicken coop if you do not plan to let it out. It is recommended that each bird has approximately 3 square meters of space inside the chicken coop and this applies to birds that have access to the outside.
Location of the chicken coop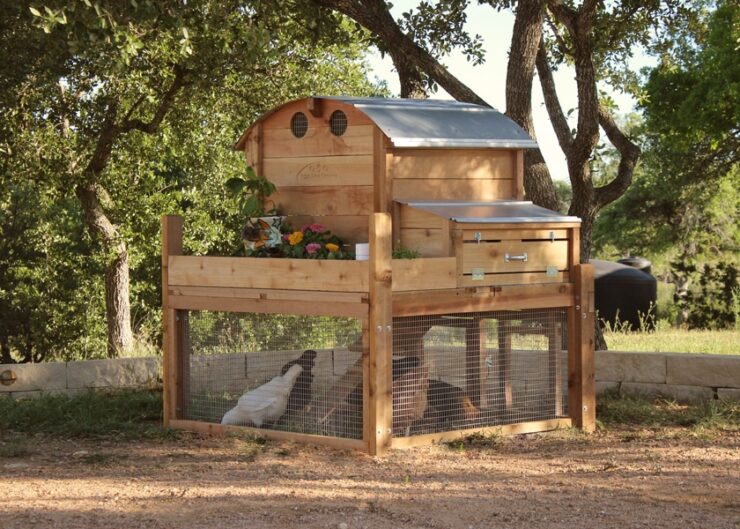 You will choose the place only after you decide on the dimensions of the chicken coop. Then, look for ideal conditions for construction. It is desirable to adhere to a few basic rules. First of all, the place where you will build a chicken coop must be dry. If a chicken lives in a humid environment, it is susceptible to various diseases.
The surface of the shed must also contain a slight slope. Otherwise, too much water will be retained. The place where the chickens live must be illuminated by the sun's rays, but it must also contain a place that will provide them with protection from the sun.
Check if there will be enough space for the construction of the promenade. Remember that the house is never placed directly on the ground.
Conclusion:
When you finish the project, you observe the behavior of the birds in your new home. If you notice that they have continued with their usual routine, know that you have provided them with perfect living conditions. However, if you notice anything strange, check once again that the chicken coop is well installed. Give your chickens a few days to get used to the new environment.