Is your home full of old glass bottles that you don't know what to do with? Do you want to make the most of them and creatively reuse them? If so, this article is for you! This article will provide tips on how to give these items a second life. From upcycling into terrariums or converting them into candleholders, there are endless possibilities for repurposing old glass bottles.
Learn how easy it can be to turn trash into treasure while doing something good for the environment. Whether you're an experienced DIYer or a beginner looking for inspiration, this article has plenty of ideas on how to create unique pieces from glass bottles. Don't miss out on your chance to find creative ways to repurpose those forgotten bottles!
Creative Upcycling: Repurposing Old Glass Bottles
Glass bottles are the perfect materials to upcycle and repurpose for creative projects. From turning them into colorful vases, candle holders, or even lamps, there are so many possibilities when it comes to reusing old glass bottles.
Not only can you create something beautiful with them in your home decor, but you can also help reduce waste on a larger scale by reusing them for other purposes. A great way to start is by breaking down the bottle and using its pieces as decorations around your house – think wind chimes made from bottle caps or mosaic-like wall art made out of broken pieces of glass.
You can also use sandpaper or spray paint to give an old glass bottle a new look that fits right in with your existing decor style. For example, transform an empty vodka bottle into a rustic lamp by wrapping twine around the neck and adding fairy lights inside! If you're feeling extra crafty, get creative with how you fill your upcycled bottles too!
Fill one with colored stones or seashells for a natural accent piece; add battery-powered LED strips inside another for a glowing night light; fill yet another with fresh flowers or succulents for living decoration that will brighten any room.
There is no limit to what kind of project ideas you can come up with when it comes to upcycling old glass bottles!
Going Green with Recycled Glassware
Going green with recycled glassware is an easy and affordable way to reduce your environmental footprint. From repurposing old bottles into unique home decor pieces to creating homemade wine or beer from scratch, there are plenty of creative ways you can reuse these timeless vessels.
For a fun outdoor project, try making colorful wind chimes with fishing lines and beads – it'll be the perfect addition to any patio area! Another great idea is turning empty wine glasses into hanging lamps that will fill your living space with warm light. You could even make mason jar lanterns for small parties or special occasions – all you need are some basic supplies like string lights, wire cutters, and scissors! Whatever your upcycling needs may be, reusing old glass bottles in nature-friendly ways gives you endless possibilities while doing something good for the environment.
Using Old Glass Bottles in New Ways
Reusing old glass bottles is a great way to stay in line with nature and help reduce waste. From making homemade vases for flowers to turning them into colorful decorations around the home, there are endless possibilities for how you can reuse your old glass bottles.
You could even use them for arts and crafts projects such as creating mosaics or making wind chimes. Another creative idea is to turn vintage-style beer or wine bottles into candle holders by filling them with oil and adding wicks – perfect for creating a cozy atmosphere at home!
With just a little imagination, you can find new ways of using these timeless vessels that not only look beautiful but also help reduce your environmental footprint.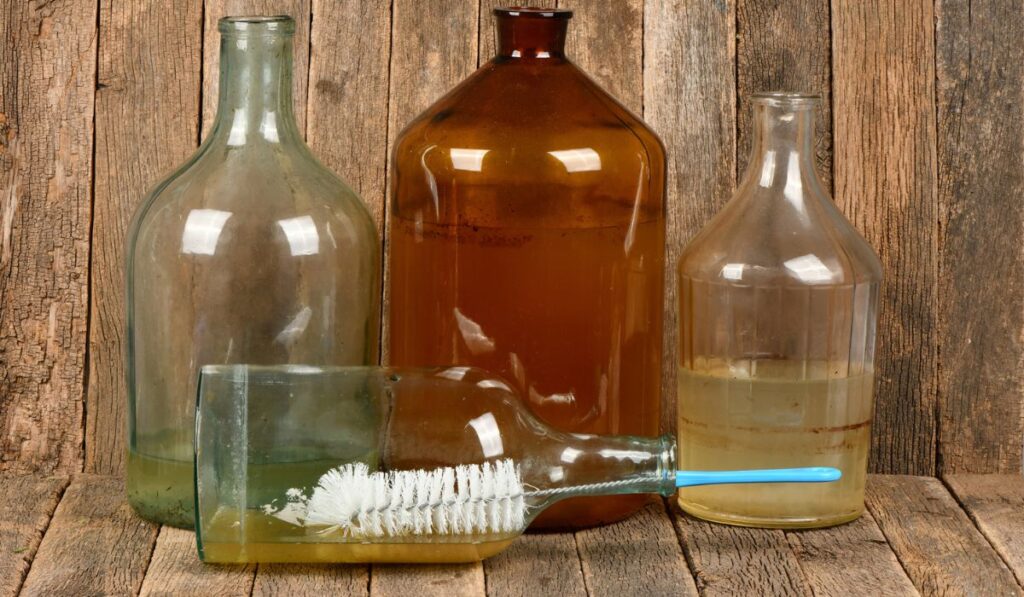 Conclusion
Reusing old glass bottles is a great way to preserve the beauty of nature while also being eco-friendly. You can use these bottles in many creative ways that not only add a unique charm to your home but also help you save money.
Not only will you be doing something good for the environment by reducing waste, but you'll also be able to enjoy the natural beauty that comes with reusing glass bottles. By taking advantage of this opportunity, we can create a more sustainable future for ourselves and our planet.