One of the best sports where an entire family can participate is a rimfire challenge shooting competition. Rimfire challenges are popular these days because the .22 caliber rimfire ammunition is readily available, and the pistols and rifles used to fire them are typically less expensive.
If you're into rifle building from the ground up, here's a chance for you to make a match-grade .22 caliber semi-auto rifle complete with a competition-worthy upper receiver. If you want to start your build with an AR-15 upper receiver, find it here. You can even get .22 caliber conversion kits in order to use them in your first rimfire challenge match.
Rimfire Challenge Appeal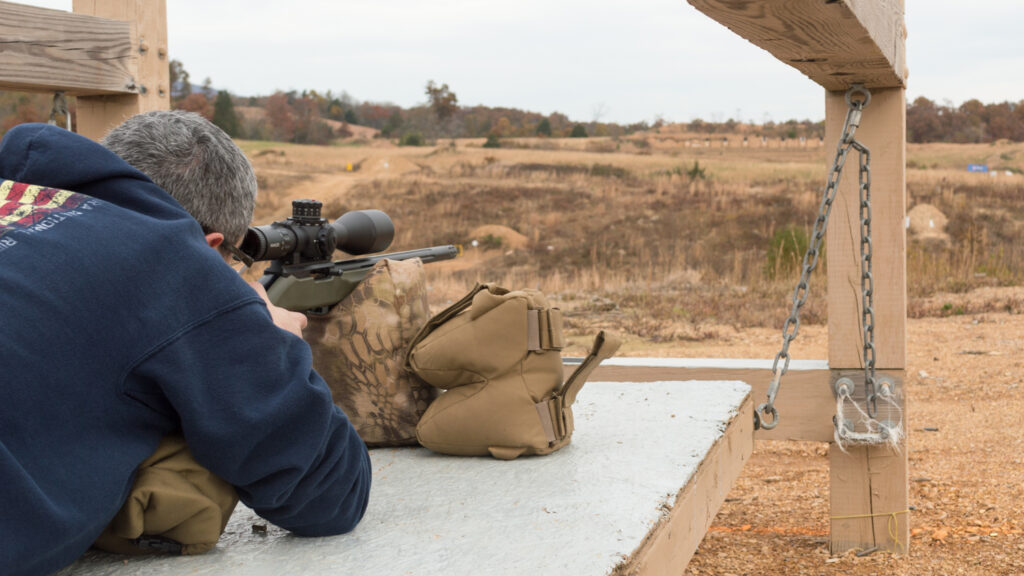 It may be possible that you hadn't thought of the difference between a rimfire cartridge and a centerfire. The name can quickly determine the difference between a rimfire cartridge and a centerfire cartridge. With a rimfire, the primer charge is in the rim, as the name implies. A centerfire bullet has the primer in the center of the base of the shot.
What makes a rimfire challenge so appealing is the caliber of the shot itself is typically smaller such as .22LR, as opposed to .45 ACP or 9 MM. Lower caliber means less recoil, and less recoil helps the novice acquire the target better when firing.
Because of the ease of firing with a rimfire pistol or rifle, you can expect to see entire families plinking away at targets during competition. Your first rimfire challenge may be filled with teenage girls and boys and may even be one open to seniors. At a rimfire challenge, everyone gets a chance to compete if they choose.
There are some basic things you'll need to include in your gear before you and your family hit the challenge range. Of course, the most obvious things you'll need to bring are your choices of pistols and rifles.
Gear Up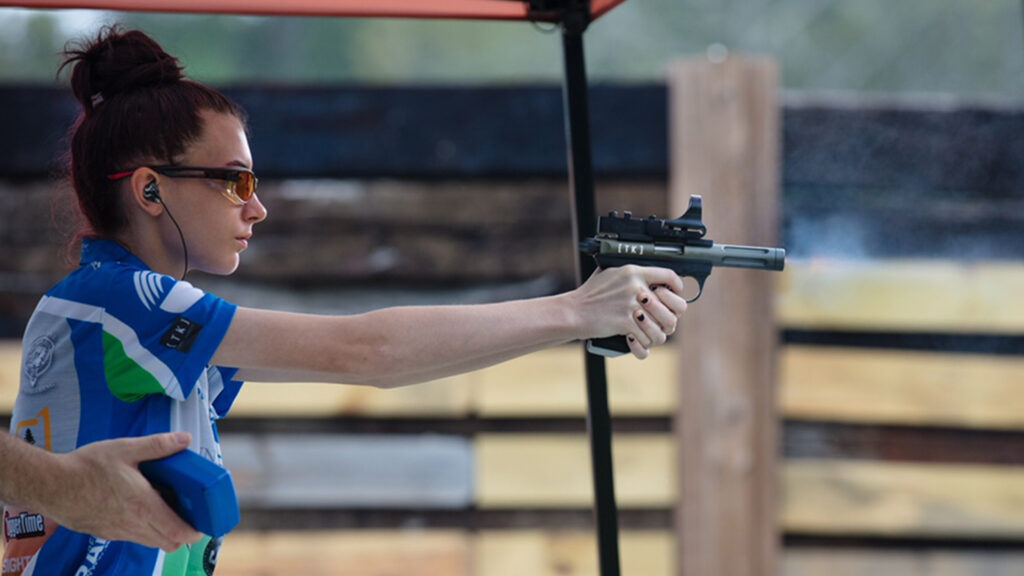 If you instead choose to purchase your pistol or rifle, many brand-name manufacturers produce excellent firearms on the market these days. Set your budget, then shop around until you find the type of rifle and pistol that suits your needs.
One of the more popular brands of both rifle and pistol comes from Ruger. As rifles go, the Ruger 10/22 is one of the best and remarkably dependable. If you don't want to mix and match brands and keep a sensible budget, Ruger also offers their SR22® series .22 caliber pistol in a very affordable price range.
Of course, Ruger isn't the only company that offers quality semi-automatic .22 or .22LR caliber rifles and pistols. If you're not entirely into the Ruger brand, shop around until you're satisfied.
As with any trips to the range or when participating in a rimfire challenge, you'll need eye and ear protection. As with your firearms, there are many quality styles of shooting glasses on the market. The same goes for ear protection headsets, so you'll want to shop around until you find the best set of glasses and the most comfortable type of headsets.
Regardless of which ones you choose, make sure you and your family have what they need to have fun during the challenge safely. Remember to take a minimum of five magazines per firearm and be sure to bring extra ammunition and a couple of speed loaders. You want to spend most of your day hitting targets during a rimfire challenge, not standing at the loading bench filling magazines.
Additional Gear You'll Need but Don't Think About
After completing your first competition, you'll probably realize you need some gear you didn't think of at first. Comfortable, non-restrictive clothing and a pair of dependable footwear are two things most first-time competitors don't consider.
Remember, your chances of placing high on the leader's scoreboard improve with your ability to quickly breeze through the course and hit every one of the targets. Wearing clothing that doesn't allow quick movement and chugging around wearing a pair of boots that weigh more than that 10/22 you're carrying won't help you win many competitions.
Dependable footwear and non-restrictive clothing need to be included in your gear whenever you participate in a rimfire challenge. Since most rimfire challenges are outdoors, you may also want to have a few snacks and bottled water as a regular part of your gear.
Additionally, consider bringing along some sunscreen and wearing headgear such as a baseball cap to protect you from the heat of the afternoon sun. Even the most durable competition shooter will need a respite between stages, and while you can always sit on the ground, you may want to consider bringing along a few webbed folding chairs.
Learning and Going Smooth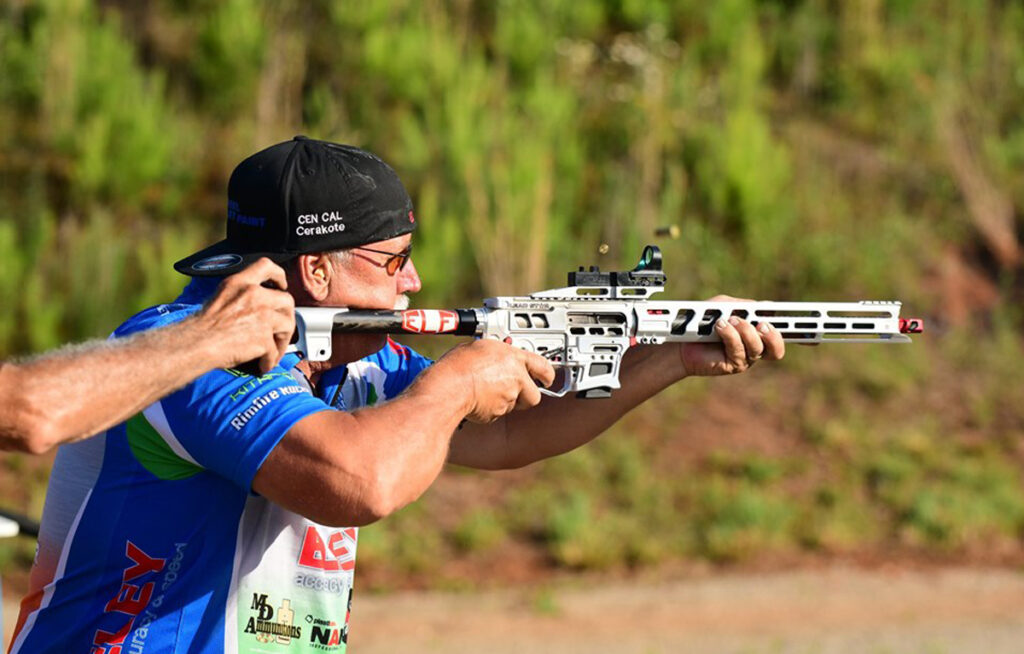 Another thing a rimfire competition does is provide much needed training to a beginner competitor about gun safety and how to properly handle a weapon. First time competitors learn how to operate their firearm while under pressure, and they also pick up many how-to and how-not-to ways of firing their rifle or pistol.
One of the most exciting things about a rimfire challenge is the speed with which you move through the course. Most challenges consist of five to seven stages for both pistol and rifle, and each stage has around six to seven targets. The trick is to move smooth not fast, because in reality, smooth is fast.
Fun For the Entire Family
From one perspective, a rimfire challenge is much like a family outing or picnic. After a few competitions, you'll know almost every one of the participants and most of their family members. Still, instead of tossing a frisbee or football around, everybody who wants to gets the opportunity to run around a rimfire course and blow away a few targets.
It's a less expensive, family-oriented, and a fantastic way of spending an afternoon. Many states have shooting clubs that sponsor NSSF or National Shooting Sports Foundation rimfire challenges during the spring, summer, and fall. If you're looking for an event that you intend to compete in, or at the very least watch one as it happens, go online, and look up the NSSF to determine where the next sponsored match is in your local area.
After seeing how everything happens and before planning to participate in your very first rimfire challenge, remember all the things you'll need to bring. Make sure you've packed all the gear you need, filled those picnic baskets with plenty of snacks and water. Also, don't forget to bring some lawn chairs. After rushing through the rimfire course, you'll want to take a load off your feet and sit a spell before the next stage.