When designing effective employee name badges, several factors need to be taken into account. By the end of this post, you'll have a better understanding of how to create effective employee name badges for your company.
What Information Should An Employee Name Badge Include?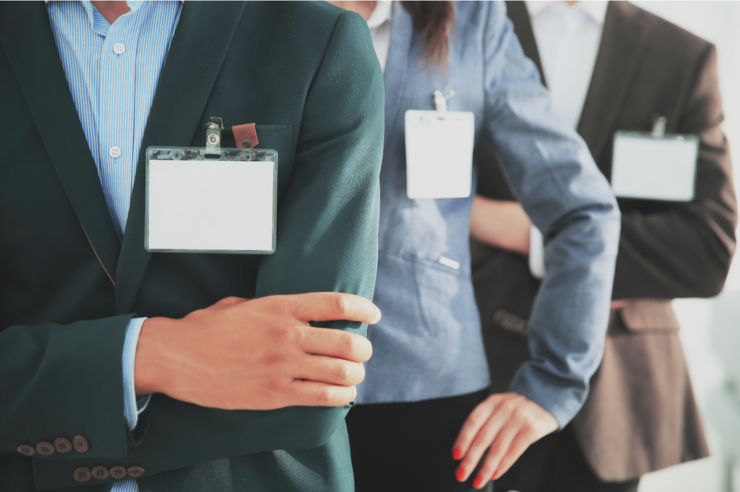 Having the right name badges for employees is essential for any business. It is a great way to identify employees and customers, as well as promote your company's brand and values. They should be thoughtfully designed with several key elements in mind. Below are some tips and rules for designing effective employee name badges that everyone can benefit from.
First, ensure that the name badge is visible and easy to read from a distance. Choose legible font styles and consider using full-color engraving and text for added visual impact. The font size should also be large enough for everyone to read quickly, without squinting or having to take extra time to read it up close.
Be sure to include all needed information on the badge such as title/position, company logo, contact information, and employee name, etc. Additionally, you may want to incorporate a barcode or QR code on the badge which can be used for quick check-in/check-out processes at events or conferences, etc. You may even want a waterproof one if your employees work with liquids frequently, like those in manufacturing or medical fields.
The color of the badge should reflect your company's culture. Choose colors that complement your logo but stand out enough so they can easily be spotted when needed!
Finally, make sure they are secure yet easily removable. Use quality materials such as plastic or metal, so they will last longer than paper ones, which tear off quickly.
What To Consider When Choosing Materials And Designs?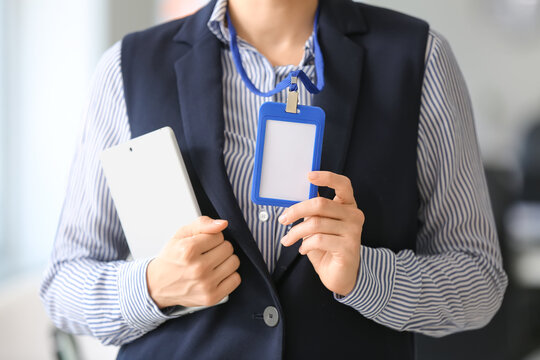 When designing custom name badges, it's important to consider several key factors. Firstly, maintaining a standard company image by selecting colors and fonts that reflect the company's brand and incorporating relevant logos or symbols is crucial. Additionally, choosing durable materials such as plastic or metal and incorporating safety measures such as access control cards may be necessary depending on the environment or location of the business.
Aesthetically, using vibrant colors and fonts for easy readability and adding unique codes for accurate employee tracking are recommended. It's also important to choose easily cleanable badges to save money and resources.
Design Tips For Adding Visual Appeal To Your Name Badges
Creating a custom name badge for your employees is an important step in building a professional brand. It can be used to introduce visitors to the team, help customers identify employees, and reinforce company recognition. But designing an effective name badge isn't easy. Here are some tips that will make your team stand out from the competition:
Include any relevant company logos on the badge for brand recognition.
Use the bold, clear font in an easy-to-read size and include the employee's full name.
Avoid letting color overpower the design; use background images or shapes to add visual interest while keeping it legible.
Choose durable, lightweight materials.
Consider incorporating security features like bars or QR codes if needed.
Keep employee names at the center of attention, choose an easy-to-read font style, and add titles or positions held by employees.
Integrate elements from the company's logo into the design if possible.
Use colors that reflect branding.
Ensure badges are secure according to industry standards.
Test and adjust as necessary until desired results are achieved.
Following these rules will ensure you create attractive yet highly functional employee name badges that offer maximum visibility while ensuring safety protocols are adhered to.
Employers Need To Implement Security Protocols With Custom Name Badges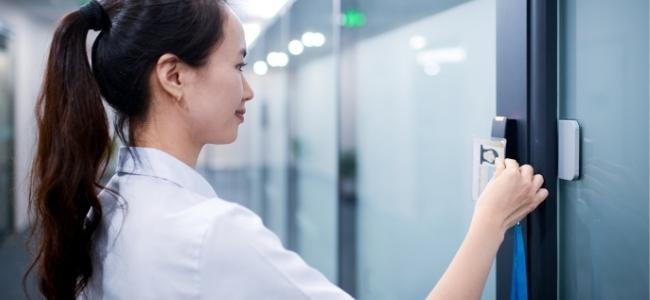 Employees are the backbone of any organization, and employers need to ensure that they remain safe and secure. One way to do this is by implementing effective security protocols with custom name badges. They have a range of benefits, from making employees more easily identifiable by customers to providing a sense of professionalism in the workplace. But how do you design the perfect employee name badge?
The first tip when designing an employee name badge is to include the employee's name and title. This will help customers identify who they are speaking with quickly, as well as provide a sense of professionalism in the workplace. Additionally, use a font style that is simple and easy to read; make sure it matches your company's logo or brand color scheme for consistency.
When designing your custom name badges, allow employees to use their first names or nicknames on their badges if they wish. Including last initials may be necessary if two people have the same first name working at your organization.
Utilizing magnetic name badges can add convenience for both you and your employees- no need for pins or clips!
Additionally, make sure each badge includes an employee number for security purposes. This should not be visible on the customer-facing sides of the badge but should still be included on every single one for tracking purposes only.
Finally, choose a material that will last long-term: durable plastic or metal materials work best when creating high-quality custom name badges!
By taking into consideration these tips while creating your custom employee name tags, you can help keep data secure while also providing employees with a professional look in the workplace!
In Conclusion
Creating effective employee name badges is an important part of any successful business. It ensures that staff can be easily identified by customers and promotes the company's branding. Moreover, it adds a layer of security that helps protect employees. When designing them, essential factors such as font types, color psychology, data security measures, and personalized information that are relevant to the job role should be considered. Additionally, durable materials should be used for added protection and longevity. By following these rules and tips when designing employee name badges, you can ensure that they look professional and provide useful information quickly and easily.